Our current special offer:
Growing a Godly Marriage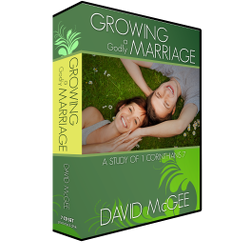 Whether you're dating, engaged or celebrating 50 years of marriage, this 7 part audio teaching series will guide you into an even more vibrant relationship.
Join David McGee as he walks step by step through 1 Corinthians 7 all the while revealing God's plan for a growing marriage. David honestly discusses God's truth on sex, divorce, and other topics crucial to understanding God's plan for the home.