Our current special offer:
Resurrection: Vol 2 - Living for eternity.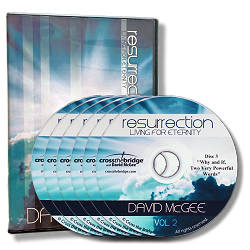 The resurrection of Jesus Christ is the single most important event in the history of mankind and has been documented by eyewitnesses and ancient historians. If that's the case, then we all need to ask ourselves, "What does that mean to me?"

In this powerful series, David McGee explains the reality behind the resurrection of Jesus and how our lives can be forever changed because of this one amazing event.

"In one day, the world changed forever, your life can too!"


Teachings included on Volume 2

So I Could Have New Life
To Eternity and Beyond
Why and If - Two Very Powerful Words
The Incredible Coming Harvest
The Incorruptible Seed Sprouts into Our Final Victory
The Sign on the Door