Our current special offer:
Living Life by the Book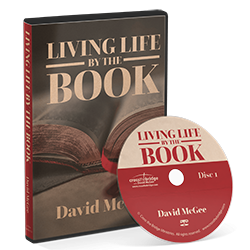 Many people think Christianity is a list of 'do's and don'ts" – an impossible standard to live up to. Life's already hard enough, and adding an endless list of rules only brings you down further. But the truth is, God's Word is a lifeline of hope and joy in troubled times! We want to help you grab hold of the lifeline God's holding out by sending you Pastor David's 4-part CD series Living Life by the Book as thanks for your generous gift below.

This empowering teaching takes you through the Book of Ruth and shows you how:
God can turn around life's difficulties for your good
Living for Jesus can be simple, not complicated
You can have joy even in trials
You can live free of guilt and shame
Get your copy of Living Life by the Book when you give today. We pray Pastor David's resource is a source of hope and joy to you as you grab hold of God's Word!