Our current special offer:
Cross the Bridge to Life: Discover Your Adventure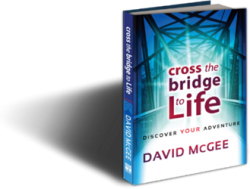 'My purpose is to give life in all its fullness.' --John 10:10b, NLT

God is not merely concerned with providing fire insurance for your afterlife. He wants to give you a reason to live, a way to live, and the power to live. He wants to help you not just to exist but to live an extremely blessed and incredibly adventurous life.

As you journey through this book, get ready to be challenged, refreshed, inspired, and equipped to start enjoying the blessed life God destined for you.
Cross the Bridge to Life: Discover Your Adventure is a book that I believe many people will find helpful, including those that may have given up or lost hope. It is my desire that many will read this book and see the simple, understandable steps to take to have the adventurous life God desires to give them. I appreciate the fresh perspectives given in this book and I believe you will too.
-Gary Chapman, author of the New York Times Best-Seller, The Five Love Languages

Everyone has personal bridges to cross and obstacles on the road to success. David McGee has such a remarkable background and expertise; his insight will have a dramatic impact on your life decisions. This book is like a compass for living.
-Phil Cooke, filmmaker and author of Branding Faith

Pastor David McGee's Cross the Bridge to Life gets at the essence and substance of what it means to be authentically Christian. Instead of thinking in terms of "going to church" or being "churched" or "unchurched," Pastor David gets at what it really means to actually walk with Jesus day to day and in a very practical, real-world way. I know the man, am impressed by his ministry, and am pleased to commend his disciple-making book to you.
-Dr. Jeffrey L. Seif, Zola Levitt Ministries

Pastor David gets it! Being a Christian isn't just about attending church on Sunday morning, it's about being a Christian 24/7 in all areas of life. In Cross the Bridge to Life Pastor David teaches us how to "be the church." No matter where you are in your walk with God, you need to read this book.
-Nathan Tabor, author of Beast on the East River

Get ready to embark on a life-changing journey with my friend, Pastor David McGee. This book will get you off the bench of life and into...a God-filled adventure.
-Stu Epperson Jr., Truth Broadcasting

I have seen David minister and also share music and testimony. I believe he has a heart for the Lord...As David continues to allow the Lord to use him, I believe that God will continue to bless this man, his family, and ministry.
-Pastor Chuck Smith, Calvary Chapel, Costa Mesa, CA

God anointed the unique talents of David McGee and used them, against all odds, to create a significant gathering of his people in North Carolina and extend for great distances the missions reach of that gathering.
-Gayle D. Erwin, author of The Jesus Style

Cross the Bridge to Life should be the constant companion of every under-shepherd in the Savior's service. Most helpful is the fact that his emphasis is not only on methods, but more importantly on character, passion, and godliness. I read it twice and will continue to read it often to "regroup." I will share it with the entire leadership team as well as include it in our church.
-Pastor Ben Lawson, Calvary Chapel of the Sandhills