Our current special offer:
The Power of a Prayer 3 Teaching Set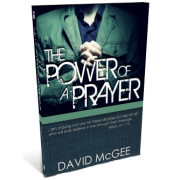 While the Son of God was waiting on Judas to betray Him, He remained in the garden praying for you and me. This powerful prayer, in John 17, now reaches through time to impact our lives today.
- What did Jesus pray about?
- Why did He pray for me?
- How does Jesus' prayer then, change my life now?
- How are His prayers being answered?

In this 3 part teaching series, David McGee teaches about the power of prayer, and he helps you understand the importance of what truly is the Real Lord's Prayer.
A $19.99 value available now for a donation of any amount.