Our current special offer:
Allies Stay Friends Marriage Conference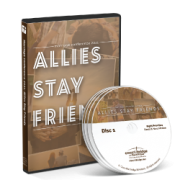 There are many resources speaking about marriage, but there is no better resource than the Word of God. The institution of marriage is a beautiful picture of the Gospel of Christ, which is why marriages are being attacked in the world today. We walk in the victory of the Lord by recognizing our spouse as our ally and allowing our friendship in marriage to deepen with time.
David and Nora McGee, along with other leaders of The Bridge, will take you through the Word of God in four sessions that touch on biblical principles that will help your marriage flourish in Christ. Whether you have been married for many years, newly married, or considering marriage this will be a great encouragement.