Our current special offer:
Overcoming the Trials of Life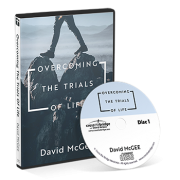 Going through a trial right now? You're not alone. We all go through difficulties, but God will use these moments not only to grow your faith but teach you to be a witness of God's grace and power as you handle times of testing in a godly manner. Pastor David' 3-part audio series Overcoming the Trials of Life will help you to deal with the bumps in life.
Disc #1 – How to Deal with the Trials of Life
It is not always the good things in life that drive us closer to God and prayer. It is not always in our strengths where the glory of God is revealed. Find out what to do when trials come…

Disc #2 – The Bumps in Life are What You Climb On
Transformation is what happens when we press into Christ as we go through bumps in life. What if those problems were really blessings in disguise? The bumps in life are what you climb on, find out how this can change you…

Disc #3 – More Than You Can Handle
When trials in life come at you unexpectedly it can seem to be more than you can handle. Trials and failures in life bring humility, success, and protection. Learn God's way and God's design of these things…
Available now for a donation of any amount.