Bridge Builders CD/DVD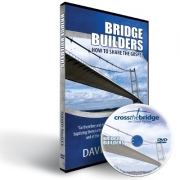 In the church today, only a small percentage of people tell others about the wonderful forgiveness they have found. Armed with God's Word and a passion for the lost, David McGee equips you with the tools needed to overcome your fear and become a bridge builder to Jesus.
A note from David McGee...
Congratulations! Your decision to learn more about how you can play an important part in changing the lives of others will have eternal significance with your family, friends and loved ones. You will help them find new lives through faith in Jesus.
The impact we can have together will make an eternal difference by simply telling the 'good news'. Jesus taught us that our highest goal in life is to love God and love people. We love people by telling them about the love and forgiveness of God. Jesus called us, the church, to go into all of the world with the most important message in all of human history - the Gospel. It is the message that God loves us and has made a way for us to know Him through the death and resurrection of His Son, Jesus Christ. We will be praying for you as you view this powerful teaching. May you become a bridge builder, who helps others understand the good news and come to follow Jesus. We look forward to hearing from you about the lives that are being changed.
Living to tell what He died to say,
Pastor David McGee