Our current special offer:
Footsteps of Paul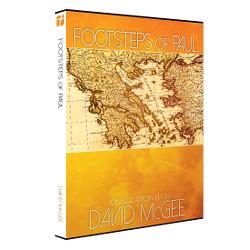 When Pastor David visited the very places where the apostle Paul ministered, and he examined the letters of Paul in the Bible, He discovered some powerful truths that he shares on his DVD, Footsteps of Paul. It's fascinating to see the locations where Paul walked and hear how relevant Paul's messages are for us today.
Experience the journey! Watch and listen as Pastor David unlocks the scripture's incredible, up-to-date meanings for us in the very cities where believers first read these letters almost 2,000 years ago. God's Word can change your life, and the lives around you, if you'll just let Him.

And this month only, we will mail you this new DVD for a gift of any amount to help Cross the Bridge reach more people with the life-changing power of God's Word.