Our current special offer:
Praying Through First Samuel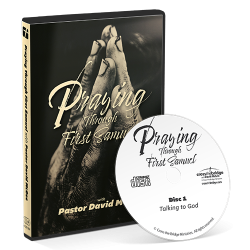 Our connection with the Lord is important in every season of life, and one of the ways we maintain that connection is by praying. In this four CD set, Pastor David teaches us about the lives of Hannah, Samuel, Saul, and David and encourages us to reach out, wait, and act when God responds. No matter where you are in life right now, God is there for you, and as you fellowship with Him, He will sustain you!
Disc 1 Talking to God
Disc 2 Pray About it All
Disc 3 When God Answers
Disc 4 Time to Talk, Time for Action